The Magic Fountain of Montjuic and Plaša Espanya
The Magic Fountain of Montjuic is one of the most famous tourist attraction of Barcelona. It is the main feature of collection of waterfalls which stretches from the Palau Nacional to Plaša Espanya. The Magic Fountain is very popular because of the spectacular show of water acrobatics, sound, colour, motion and lighting. Combination of these elements offers an amazing expirience and an excellent way to end a sighteeing day in Barcelona. The show runs for app 30 minutes and the music ranges from classical to modern. From October to April the Fountain operates on Fridays and Saturdays every half-hour between 7:00 and 8:30pm and from May to September on Thursday through Sunday every half-hour between 9:00 and 11:00pm. It is good to come early to get good position. The closest Barcelona Metro station is Espanya, along Lines 1, 3, and 8.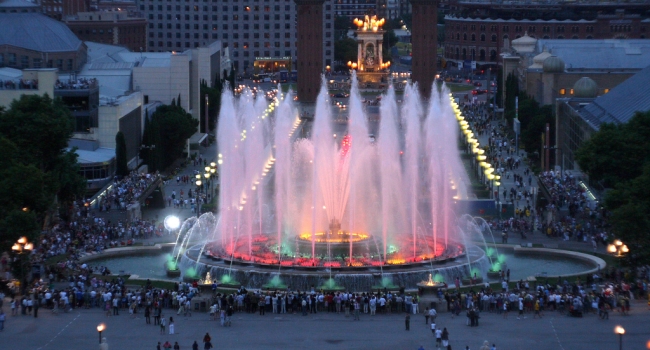 Plaša d'Espanya
One of the most important squares and as well as an important transit hub in Barcelona. It is situated at the crossing of Avinguda Gran Via de le Corts Catalanes and Avinguda del Paral-lel. This impressive square was originally the monumental entrance to the area of the International Exhibition of 1929. Two soaring towers stand between Palau Nacional and the Plaša d'Espanya. At the other end of the Plaša d'Espanya stands the 'Arenas de Barcelona'. It is the bullring built in 1900, but bullfights have never really caught on in Catalonia and the arena has now been turned into a modern domed shopping center. On the top of the Arena you will find some place to sit down and have a lunch or dinner and enjoy the view around it.