Gothic Quarter (Barri Gotic)
The Gothic Quarter (Catalan: Barri Gotic) is the center of the old city of Barcelona. The Barri Gotic retains a labyrinthine street plan, with many small streets opening out into squares. It encloses most of what remains of medieval Barcelona and includes some of the most interesting monuments in the city. The name of Gothic Quarter came into use in the early 20th century when it was realized that, although it is not the only area of the city, the complex of buildings remaining here is more harmonious and therefore deserving greater attention. Most of the quarter is closed to regular traffic although open to service vehicles and taxis.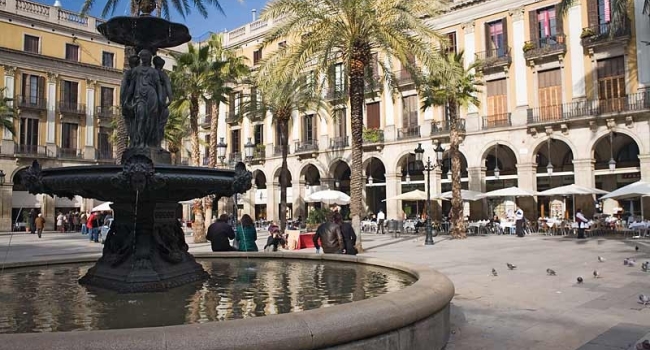 Plaša Reial (Royal Plaza)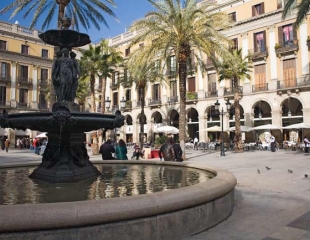 Plaša Reial (Royal Plaza) is a square in the Barri Gotic which lies next to La Rambla. This picturesque square was built in 1848 and was designed by Daniel Molina. It is surronuded with the palm trees which makes it appear like an oasis and therefore represents great place to take rest from sightseeing. Flamenco dancers, guitarists and other street performers make the atmosphere even more relaxing. There are a large number of restaurants, wine bars, cafes and some of the city's most famous nightclubs. The square boasts beautiful architecture - lanterns designed by Antoni Gaudi and fountain of the Three Graces. Plaša Reial is also a popular meeting place during the summer. That makes it busy and vibrant place so you should be careful and pay attention to a pickpockets.
Barcelona Cathedral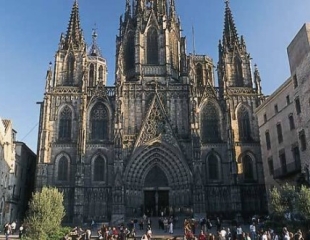 The Cathedral of the Holy Cross and Saint Eulalia is also known as Barcelona Cathedral. The construction began in 1298 and continued until 1448. The cathedral is dedicated to Eulalia of Barcelona, a young girl who was tortured and killed for her Christian faith in the 4th century during the persecution of Christians in the reign of the Roman emperor Diocletian. The body of Saint Eulalia is preserved in the cathedral's crypt. The cathedral is famous for its 14th century cloister, with a central courtyard surrounded by a marvellous Gothic portico. There are always 13 geese in the courtyard. Each goose represents one year in the life of the Santa Eulalia.
Placa de Sant Jaume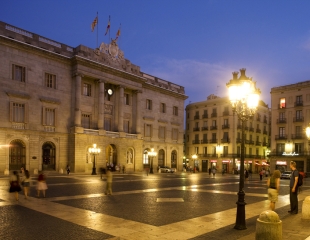 The square Plaša de Sant Jaume is the administrative centre of both the city and surrounding Catalonia. The centre of the Catalonian government (Palau de la Generalitat) and the City Hall (Ajuntament) are located here across from one another. The main facade of the Palau de la Generalitat is built in a renaissance style while the secondary facade and the ancient internal courtyard are built in a Gothic style.